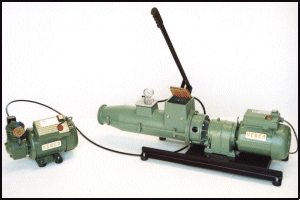 The pugmill is an important piece of equipment in a pottery room or studio where there is a high clay usage. It enables clay to be reclaimed provided it has not become too dry. Clay that is too wet should be dried on plaster batts before reclaiming. It may also be used for modifying clays by the addition of grog or sand. The de-airing pugmill is a requirement in establishments where large volumes of clay are used and reduced preparation time is an advantage. The vacuum pump removes all air, eliminating time spent wedging.
The Venco Pugmill range are proudly designed and manufactured in Australia and are shipped world wide.
Venco De Airing Pugmills – Mark II. 75 mm, 87 mm and 110 mm diameter nozzles are available in these de-airing pugmills, which are suitable for de-airing, blending, mixing and reworking clay. The mixer shaft and blades are stainless steel and the main mixer shaft bearings are sealed ball races, that lubricated for life and protected by 'O' ring seals. The high capacity piston vacuum pump with air and water filter is fitted with a single phase .56kW motor. The barrel is of cast aluminum, split longitudinally for easy cleaning. The main drive gear motor is totally enclosed, fan cooled, single phase. (Product Codes LB30, 40 & 50) Larger models are available on order. Please contact us for details.
To see our entire range of Venco pugmills please visit our online shop.