Tools are an essential part of the studio.  The vast array can seem very daunting to the beginner.  Whether for construction, shaping, smoothing or decorating, the correct tool can make the difference between success and failure.  It is a matter of personal preference as to which tool may be the most suitable for the pots that you intend to make, but always buy the highest quality tools that your budget will allow.  In conjunction with your studio equipment, your tools will allow your visions to become reality.
All tools and accessories should be thoroughly cleaned and dried after use and stored in a suitable container.  This basic care will add years to the life of the tools of your craft.
Brushes
Please refer to our brush section.
Basic Tool Kit
This kit is designed for the novice in the classroom or studio to begin experimenting with clay.
Modelling Tools (Boxwood)
Essential in  every studio, these 12 tools, 203 mm (8 inch) long, are shaped to perform a multitude of jobs from decorating through to cutting, hollowing out and modelling.  These tools are beautifully finished and fit very comfortably in the hand.  They are available individually or as a set.
Calipers
A pair of compasses made of plastic, metal or boxwood – used for checking and comparing measurements of pottery e.g. when fitting lids, when producing sets of similar dimensions.
Cutting Wires
Wire attached to wooden or plastic holders at both ends to ensure firm, straight cutting of clay.  Available with either plain or twisted stainless steel wire.
Plain wire with wooden handles (JC7601)
Twisted wire with wooden handles (JC7602)
Twisted stainless steel wire with rubber hand grips (JC7603)
Clay Gun
For the manual extrusion of clay.  This cast zinc alloy tool is the size of a large syringe and fits comfortably in the hand.  The clay gun is supplied complete with 19 discs and is ideal for any potter decorating by clay addition, and for the classroom where the shapes made are of great interest. (Product Code JD6550)
Kushi Comb
A Japanese tool of polished wood beautifully finished.  Used to produce 'Kushime' comb grain decoration as well as many other decorative effects. (Product Code JU6000)
Harp
Stainless Steel frame used for producing clay slabs of even thickness without rolling guides.  The wire retaining rings are set in the location slots according to the thickness of the slab required. Made in Australia
Size: 457 x 230 mm (JF6401).
Spare wires are also available. (JF6411)
Hole Piercers
For producing a neat hole. The smallest size is particularly suitable for strainer holes in teapots.
Available in two diameters as well as a Multi Drill Tool
5mm  (JE6455) Tapered
20mm (JE6454)  Straight
Multi Drill Tool (JE6500) 6 hole piercers in one simple tool!!
Palettes and Kidneys
A variety of palettes for every day use in the pottery workshop. Soft (flexible) rubber palettes are used most often in the pressed dish technique when clay is pressed into a mould.  The hard (firm)  rubber type may be used on thrown or hand built ware for shaping and smoothing the surface.  Steel palettes are made from high quality blue steel and are suitable for smoothing and trimming leather hard or dry clay.
To view our range of Palettes and Kidneys visit our online shop.
Paddles / Patters
Large wooden paddle 36 cm long, for use with large hand built pots (JH6801)
Wooden patter 17 cm long, for use with hand built pots. (JH6981)
Tongs – Glazing and Raku
Glazing tongs (JQ7384) are 280 mm long and used for holding bisque ware whilst dipping in glaze.
Raku tongs  (JQ7382)  used for moving raku pieces around the kiln.
Double Ended Ribbon
Made to our specification, the five shapes available provide every requirement for turning.   200 mm long.
Available individually or as a set.  (Product Code JR7460)
Clean Up Tool
Primarily used to 'clean up' greenware by removing seams and imperfections and for enhancing and sharpening any embossing.  They may also be used for very fine sgraffito work. 150 mm long.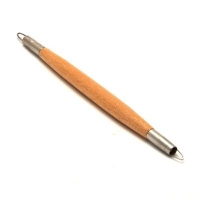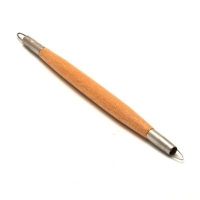 Sgraffito Tool
The sgraffito is available as a double ended looped wire tool that, depending on which end is used, will give a fine or heavy sgraffito line.  150 mm long. (Product Code JU7205)
Weenie
A double ended looped wire tool which will give a medium to heavy line.  150 mm long. (Product Code JU7202)
Lace Double Ended Tool Heavy blunt needle on one end and tear-drop flat shape on the other.  150 mm long. (Product Code JU7201)
Single Ended Ribbon Tools
Used forshaping wet or leatherhard clay.  160 mm long.
Sponges
Sponges are a day to day necessity in all forms of ceramic work;  whether for decorating, hand building or throwing.
We stock the following sponges –
Sponge Sticks – sponge on a long handle.  Used for removing surplus water from the inside of tall or narrow necked pots during throwing.
Hydra Sponges – round synthetic sponges that are long lasting and strong.  They are suitable for many uses.
Sanding Pads – for cleaning up fired ceramic pieces.
Tile Cutters
Easy to use, Australian made, spring action cutters that make tile cutting a snap.
Create consistent accurately sized tiles using these tools.
Crafted from galvanized steel, they come in a variety of shapes and sizes:  square, round and border.